March 23rd, 2020 – 12:15 PM
Georgia Department of Public Health-
Today's significant increase in cases is in part reflective of improvement in electronic reporting efficiency from commercial laboratories. These reports often have sparse patient data and DPH will be working to complete these records, so data will change over time.
Report For: 03/23/2020 (12:00 pm)
To ensure that the numbers being provided through the COVID-19 data tool are the most current numbers available, the updates are done at NOON and 7:00 pm every day.
These data represent confirmed cases of COVID-19 reported to the Georgia Department of Public Health as of 12:00pm 03/23/2020. A confirmed case is defined as a person who has tested positive for 2019 novel coronavirus.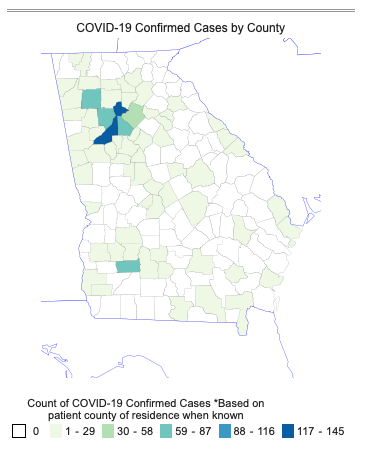 Confirmed cases and deaths in Georgia.

| COVID-19 Confirmed Cases | No. Cases (%) |
| --- | --- |
| Total | 772 (100%) |
| Deaths | 25 (3.24%) |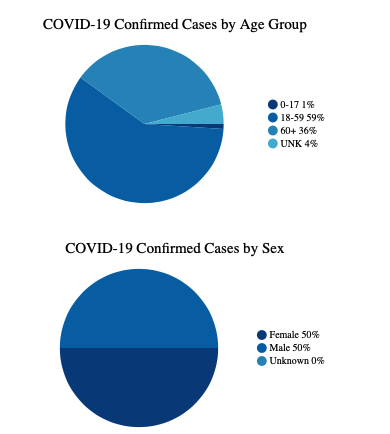 COVID-19 Testing by Lab

| Lab | Number of Positive Tests | Total Tests |
| --- | --- | --- |
| Commercial Lab | 608 | 3824 |
| GPHL | 164 | 1245 |
COVID-19 Confirmed Cases by County

| County | Cases |
| --- | --- |
| Fulton | 145 |
| Cobb | 79 |
| Dekalb | 75 |
| Dougherty | 64 |
| Bartow | 61 |
| Gwinnett | 34 |
| Carroll | 21 |
| Cherokee | 20 |
| Clayton | 18 |
| Lee | 16 |
| Clarke | 14 |
| Richmond | 11 |
| Fayette | 10 |
| Floyd | 10 |
| Hall | 10 |
| Coweta | 9 |
| Henry | 9 |
| Lowndes | 8 |
| Douglas | 7 |
| Forsyth | 7 |
| Unknown | 6 |
| Gordon | 5 |
| Paulding | 5 |
| Chatham | 4 |
| Glynn | 4 |
| Newton | 4 |
| Polk | 4 |
| Rockdale | 4 |
| Spalding | 4 |
| Troup | 4 |
| Columbia | 3 |
| Lamar | 3 |
| Oconee | 3 |
| Peach | 3 |
| Worth | 3 |
| Baldwin | 2 |
| Bibb | 2 |
| Butts | 2 |
| Early | 2 |
| Effingham | 2 |
| Laurens | 2 |
| Lumpkin | 2 |
| Muscogee | 2 |
| Pickens | 2 |
| Sumter | 2 |
| Terrell | 2 |
| Tift | 2 |
| Whitfield | 2 |
| Barrow | 1 |
| Catoosa | 1 |
| Charlton | 1 |
| Chattooga | 1 |
| Clinch | 1 |
| Coffee | 1 |
| Dawson | 1 |
| Heard | 1 |
| Houston | 1 |
| Lincoln | 1 |
| Madison | 1 |
| Miller | 1 |
| Monroe | 1 |
| Morgan | 1 |
| Pierce | 1 |
| Randolph | 1 |
| Tattnall | 1 |
| Turner | 1 |
| Twiggs | 1 |
| Washington | 1 |
| Unknown | 39 |
*Based on patient county of residence when known
Report generated on: 03/23/2020 11:31:44